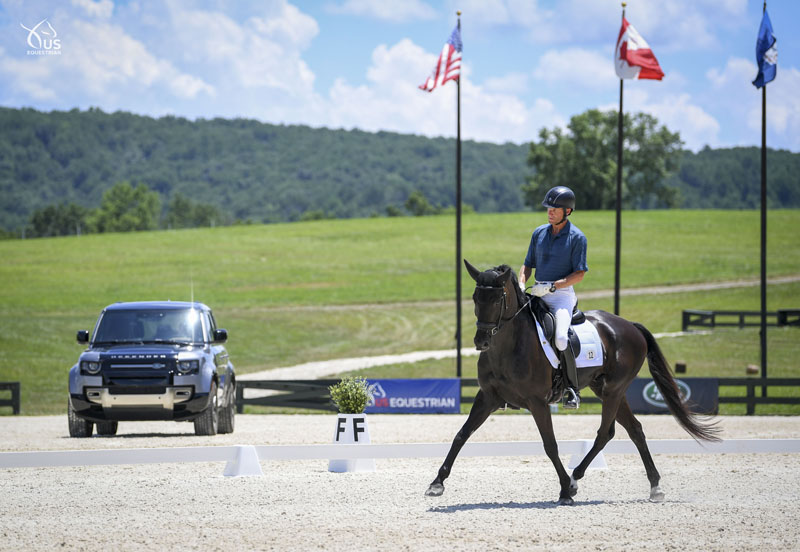 We just finished up a great couple of days at Great Meadow in The Plains, Virginia for the US Eventing Team's mandatory outing. The Great Meadow Foundation were generous enough to put on a spectacular event for the 12 horses in training towards the Olympic Games. This was a perfect time to give them a practice run as the Olympics will be run in less than a month.
I took Tsetserleg TSF and On Cue, both owned by the Turner Family, to this event. My game plan was to give them a nice, solid run in all three phases, making sure they felt confident and finished sound so they're in prime condition leading into Tokyo. Both of them were impressive in all three phases and we completed the competition in great form.
Obviously we're getting close to crunch time now and everyone is a little bit on edge. I really do feel like I have a good chance of being ultra competitive on Tsetserleg. He's obviously a talented tryer and I feel like he's in superb form. The next few weeks will be spent polishing up parts of the dressage test, keeping him sweet and fresh in the way he goes, and obviously jump schooling him a couple times.
I know that when it gets down to it, Thomas and I will be the ones in the arena, but there's an army of support around me: first and foremost Chris and Tommie Turner who have been exceptional supporters the past few years. It's wonderful seeing them cheer their horses on and I look forward to rendezvousing with them in Japan.
I have an awesome staff led by head groom/barn manager Steph Simpson. The work they put in on a day to day basis in incredible. My coaches Silva Martin, Erik Duvander and Peter Wylde have sacrificed a lot and turned away other opportunities to be there for me. A huge thanks also to my blacksmith, vets, physio, masseuses, fitness trainers, and the list goes on.
I'm genuinely looking forward to tackling this Olympic Games and I'm sure it will be one like none other.
Boyd